Memorial Plaques of distinction
Above all our memorial plaques are both thoughtful and timeless.
Treanor Stone-Tec offers an exclusive range of handmade memorial plaques. Therefore helping you honor the memory of your loved ones. Because plaques are made of granite they are tough and durable. As a result, plaques will also withstand any outdoor weather climates. Almost all memorial plaques are available in four colors. Above all, each plaque has a stand fixed to the back. Furthermore enabling your memorial to rest safely in position. Finally, plaques are made and designed by Treanor Stone-Tec in Ireland. Most noteworthy each plaque comes with a lifetime guarantee.
How to order memorial plaques
First of all to place an order simply select a plaque model. Also chose the size and color you prefer. Similarly, add your own personal inscription or memorial verses. Likewise, upload a photo if you prefer to use your own. Finally, after you submit your preferred wording make your purchase. Hence we will also email you a proof for approval. So delivery to Ireland and UK is seven working days. While the USA and other countries have another delivery of 10 working days. If it seems like you cannot find the memorial plaque you are looking for contact us.
Baby/Children
Memorial plaques suitable for children and babies. Furthermore individualize your memorial with personal wording. Also upload your own personal photos and images.
Father/Grandfather
Memorial plaques for father and grandfather. Order even more father/grandfather plaques online. Above all personalize your Inscriptions. Add personal photos. Make the plaque unique.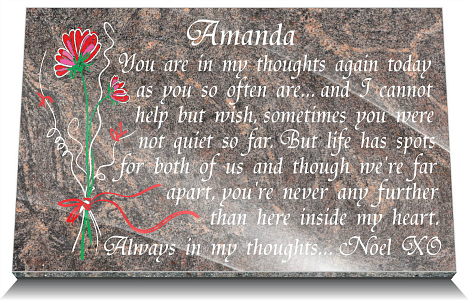 Husband/Wife
Plaques designed for husbands or wives. First of all select your model and personalize your wording .Finally upload images or personal photos. Make your memorial plaque unique.
Mother/Grandmother
Plaques made for mothers and grandmothers. Most noteworthy order your plaque by color and size. Also personalize the verse and wording. Finally add a special image if needed.
Brother/Sister
Memorial plaques for brothers or sisters. Above all brother/sister plaques can be easily personalized. Include even more individual inscriptions, images or photographs.
Boyfriend/Girlfriend
Plaques uniquely designed for boyfriends and also girlfriends. Even more boyfriend/girlfriend plaques can be selected by model and size. Likewise personalize your wording or image.
Music Memorial Plaques
Memorial plaques for almost any music lover. First of all view our exclusive range of music plaques. Finally upload your preferred instrument and personalize your inscription.
Best Friends
Plaques specially made to commemorate above all your best friend. Personalize plaque even more by color and size. Finally add your personal inscription and special image.
Sports Memorial Plaques
Personalize your own sports memorial plaque. First of all choose your preferred sports plaque type. Finally upload your own sports image or crest. Also add a photo to your memorial.
Portrait Plaque
Portrait plaques with your own personal photos etched in stone. First of all select a memorial plaque style and size. Finally upload a photo and personalize your own wording.
Pet Memorial Plaque
Pet memorial plaques for above all a special companion. Choose from even more pets images online. Upload your own pets photo along with a short memorial verse and date.